The company offers a turnkey, concierge solution to installing climate-friendly backyard housing
Via Globe Newswire:
Announcing today the launch of Happi Builds – a new, disruptive company specializing in climate-friendly prefabricated accessory dwelling units (ADUs). In Toronto, over 500,000 properties meet the criteria to build backyard housing as-of-right – guided by a team of PropTech investors, eco-social real estate leaders and legal experts, Happi Builds takes the stress out of installing ADUs with its wrap-around, customer-focused approach.
According to a recent CMHC report, 5.8 million affordable housing units are needed by 2030 in Canada. The housing crisis is particularly pronounced in Toronto, and accessory dwelling units have been discussed as a part of the solution long before the City of Toronto announced the 2023 Housing Action Plan.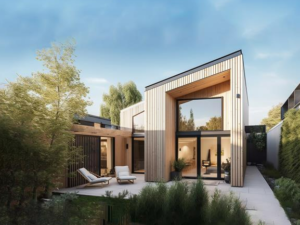 From start to finish, homeowners are able to install an ADU in only 12 to 16 weeks with the concierge service Happi Builds provides, handling everything from initial consultation to design and permitting through to financing and installation. Happi Builds' made-in-Canada units are available for purchase and can be installed as a rental unit on eligible properties or used for personal functions such as multi-generational housing, home office, yoga studio or gym. Built and delivered by R-Hauz, designed by award-winning architects, each Happi Builds ADU is crafted to reflect the client's unique property and vision.
"Following in the footsteps of California, Toronto has recently introduced a new bylaw allowing thousands of property owners to build ADUs in their backyards. This radical change is a sign of what's to come of the market across Canada, ushering in new possibilities for building a happier and more livable future right in your backyard," says Matt Soloway, chief executive officer, Happi Builds. "Our stress-free service seeks to not only empower homeowners to capitalize on their unused land, but to foster gentle density in these neighbourhoods by streamlining the process of building accessory dwelling units for homeowners."
Often requiring a lawyer, architect, and contractor, building an accessory dwelling unit is typically an intensive endeavor with fluctuating costs. Happi Builds simplifies the process of building these laneway houses or garden suites by offering a low-carbon, low stress and efficient solution for homeowners seeking to make use of existing private property.
In partnership with R-Hauz, Happi Builds boasts a growing portfolio of designer backyard housing options constructed with low carbon technologies. Built using all electric, passive house light approach construction, these mass timber units feature the latest prefabricated building methods. Compared to traditional construction methods, prefabricated suites such as the ADUs available through Happi Builds offer a significant reduction in waste and cost compared to traditional construction.
"Having served on the advisory committee when the City of Toronto initially began exploring laneway housing in the '90s, we're proud to partner with Happi Builds to make it easy for eligible property owners to navigate installing ADUs," says Leith Moore, co-founder and principal, R-Hauz. "With both the rising cost of housing and construction in recent years, our flat-pack, prefabricated modular units offer a simple solution to increase housing stock in residential neighbourhoods that would benefit from increased density."
The housing affordability crisis triggered action across all levels of government, fostering an increase of housing supply. This includes major zoning expansions such as a new set zoning rules passed in 2018 allowing for laneway housing as-of-right.
"Across Canada, many established neighbourhoods are primed for densification. This has positioned backyards as an untapped resource worth exploring, where some homeowners are looking for innovative ways to generate income from their properties," says Jamie James, managing partner of Greensoil Proptech Ventures and director of Happi Builds.
ABOUT HAPPI BUILDS
Happi Builds is a leader in modular backyard housing, also referred to as accessory dwelling units (ADUs), laneway suites or garden suites. The company offers a full-service, one-stop solution for customers building ADUs on their property – from initial consultation to design and permitting through to financing and installation. As the exclusive distributor for R-Hauz accessory dwelling units in Ontario, the company uses innovative climate technologies in its building materials, contributing solutions to the climate crisis and housing shortage through prefabricated, modular backyard housing. For more information, visit happibuilds.com.
MEDIA CONTACT
Rachel Romu
Narrative PR
647-854-8850