California real estate trend finally makes its way to Toronto
From Toronto Life:
Many Torontonians are seeking additional living space—whether for a home office, for multi-generational housing or as a rental property for supplementary income. An ideal scenario would be to build an additional dwelling in your backyard that could meet this need with a stress free, sustainable and design focused solution.
Enter: Happi Builds. As Toronto's leader in prefabricated backyard housing, also known as accessory dwelling units (ADUs) or garden and laneway suites, Happi Builds, in collaboration with R-Hauz, uses innovative climate friendly technologies to deliver a seamless customer-focused experience. From initial consultation, property assessment, design and permit approvals, to assembly, construction and delivery, Happi Builds offers a full-service solution for sustainable backyard housing.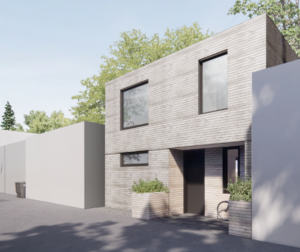 And the timing could not be better to consider an ADU in Toronto. In February 2022, the city passed a bylaw that expands permissions to allow homeowners to build garden suites in an attempt to expand limited housing options, following in the footsteps of California.
The Happi Builds team is led by Matt Soloway, David Goodman, Jamie James and Andy Shapack, each bringing their unique experiences to the venture. Underlying their passion for climate technology capitalism is the belief that as a public company, Happi Builds can democratize the opportunity for retail investors to participate in the backyard housing revolution. "We watched how the new zoning law played out in California, where approximately 60,000 permits for backyard homes have already been issued," says Soloway, CEO of Happi Builds. "We predict the Toronto market will mirror this trend with an upsurge of eligible homeowners interested in building ADUs. Happi Builds is excited to streamline the process and offer an ADU option that is design focused, transforming an often prohibitively expensive and time-consuming housing solution into a more affordable and much faster one."
Backyard Housing Solution
The construction of additional dwelling units has the potential to increase housing supply in Toronto within existing neighbourhoods, which in turn creates accessibility to stable and affordable housing. "ADUs can help address two issues contributing to the housing crisis—escalating home prices and dwindling rental stock," Soloway says. "Answering these housing needs puts ADUs in a position to flourish, especially in areas seeing steady population growth like Toronto, which grew by 2.3 per cent from 2016 to 2021." More than 500,000 properties in Toronto qualify for backyard housing, which would help the government meet its target for new housing in the province over the next decade.